---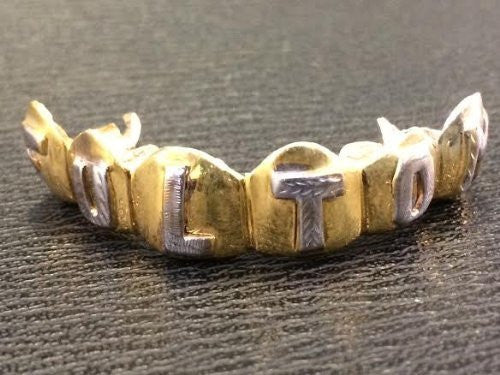 Sale
Things to keep in mind when purchasing Removable Gold Teeth:

• Please Enter The Name You Would Like (Up to 6 Letters).
• Name Engraved In White Gold
• AUTHENTIC 10k Gold.
• This item contains both WHITE & YELLOW Gold
• CUSTOM MADE to Specifically Fit YOUR Teeth.
• We Custom Make Our Gold Teeth Because We Believe That ONE SIZE DOES NOT FIT ALL.
• Our Gold Teeth are Guaranteed to "Fit Like A Glove".
• Able To Be Removed And Placed Back Over Teeth When You Wish (Removable).
• Gives the Impression That You Have Permanent Gold Teeth Because Of The Perfect Fit!
• Mold Kit and Instructions Included In Order (We Send You Mold Kit and Instructions, You Send the Kit Back To Us And We Ship You Your Custom Made Gold Teeth).
• Delivery usually takes anywhere from 7 - 9 days after Mold Kit has been sent back to us.
• If You Have Missing Teeth or A Gap Between Your Teeth please email mypersonaljewelrycs@gmail.com for a price adjustment.
• A FREE Beautiful Gift Box is Included With Every Order!
----------------------------------------------------------------------------------------------------------------------------
If you have any tips, questions, or concerns, please email mypersonaljewelrycs@gmail.com. We will answer as soon as possible!